Expert Jewelry Appraisals
J
ewelry appraisals excel at Margulis Jewelers because they are done in detail with precision and accuracy. Our appraisal team has a deep knowledge of jewelry and gemstones of all ages. A jewelry appraisal provides adequate documentation for insurance coverage should there ever be damage or loss. The appraisal also serves as an evaluation for selling purposes.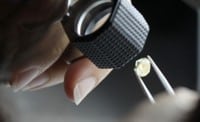 Our exceptional gemologist appraises each jewel in our gemological laboratory. Our Gemologist holds dual graduate degrees from the Gemological Institute of America (GIA) and the Fellow of the Gemological Association of Great Britain (FGA). She was a chief gemologist of the leading diamond grading laboratory in Hong Kong. Our facilities are fully equipped with the finest instruments to precisely evaluate your gem.


As a jewelry historian, David Margulis has international experience buying and selling the finest of Vintage, Estate and Antique jewels. The depth of David's knowledge is unsurpassed in ancient, vintage and modern jewelry. Our professional team guarantees the highest degree of accuracy in each appraisal document. Our appraisals have been recognized for over 85 years. Let us help protect what is valuable to you.