Margulis Jewelers: At the corner of Broadway and Yamhill
M
argulis Jewelers is situated in the historic Jackson Tower at the center of downtown Portland. Located at 800 SW Broadway at Yamhill, Margulis Jewelers is across the street from Pioneer Courthouse Square and Nordstrom's.
As a member of the Society of Jewelry Historians, David Margulis is uniquely qualified to work with you on any matter regarding estate jewels. The Margulis Atelier is an on-premise studio from which all of our design work is done. Whether handling simple repairs, examining stones, or creating a jewel from an original design, all pieces stay within the confines of Margulis Jewelers at all times.
90 Years of History
S
ince 1932, Portland, Oregon's Margulis Jewelers has been a beacon for those with a love for beautiful things.
From the treasure-filled windows to an interior, designed to showcase what is indeed our greatest pride to share, the store welcomes all who wish to enjoy.
David Margulis has been the owner of the store since 1985, taking over the reigns from his father Jerome Margulis who initiated his love for jewelry at an early age.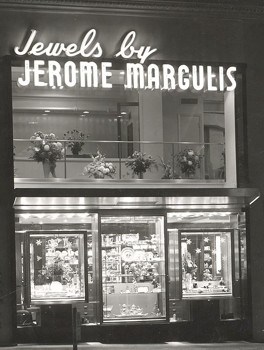 Vintage Expertise
Margulis was the first jewelry store in Portland to offer an extensive collection of vintage pieces. David Margulis, a member of the Society of Jewelry Historians, offers a keen appreciation and depth of knowledge to customers wishing to acquire or sell pieces from another era.